After years of argument, debate and controversy the question of which of the last 'Big Bangers' is the real, 1984 Bathurst winner has been resolved.
Renowned car collectors, the Bowden family, recently purchased one of the two VK Commodores run by the Holden Dealer Team in the final year of Group C competition. In period the two cars ran as #05 on the car Peter Brock and Larry Perkins drove and the #25 was shared by John Harvey and David Parsons, the two cars famously finishing the James Hardie 1000 in that order.
However, in the years after this there became confusion and debate about which was was the original #05 because both examples ended up with the same number.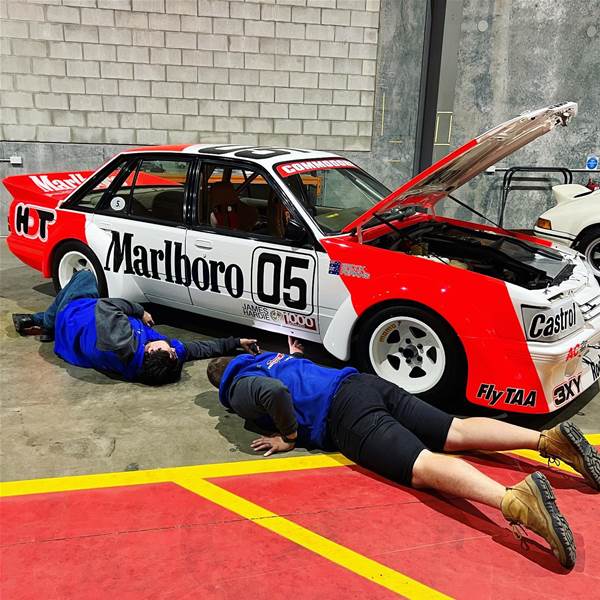 The Bowden family confirmed the details that proves this is the original #25 HDT Commodore. Picture: Bowden's Own Facebook
Australian Muscle Car magazine investigated the case back in Issue #76 and determined that the genuine, race-winning #05 is the Holden that resides in the Bathurst Regional Council Museum and the other model, which spent time in Western Australia and the United Kingdom, was the #25 originally.
The Bowden family purchased the car recently while it was wearing #05 but decided this week to restore it to its rightful number, finally ending the debate. 
The Bowden's explained their decision in a Facebook post, complete with images of the car now wearing the #25.
"One of the most significant moments in Australian Motorsport was the finish of Bathurst 1984 race where the two now iconic dayglo HDT commodores finished one-two in that final enduro for Group C beasts at the mountain," the post read.
The debate over which HDT VK Commodore was the real #05 has finally been resolved. Picture: Bowden's Own Facebook
"Since that time the two almost identical VK's went very different ways and from that moment there has been conjecture and controversy as to which car was which, an argument which has accelerated in the last decade.
"Our family has been on the sidelines and can see/understand both sides of the argument, but have sided with the physical evidence and HDT team members that all point to the #05 in the Bathurst museum being the correct 05 and the equally iconic #25 being the car we now proudly have at home in our shed.
"This week we changed the numbers back to what we feel is the right thing to do."
The post added: "John Harvey was a great friend who we were lucky enough to have come and stay with us a few times over the years, in all sense of the word he was a total gentleman. It's a shame he didn't get to see this moment, but he and David 'Skippy' Parsons can now be celebrated with the famous Brock/Perkins 05 VK together once again."