Anyone with a passing interest in Group N historic racing or the Touring Car Masters series will know the name Tilley. Brothers Brad and Cameron Tilley have been around the historic touring car racing scene pretty much ever since there was an historic touring car racing scene. Their involvement started in the early 1980s with their legendary S Series slant-six model Valiants (push-button automatic and all), before eventually progressing through to Falcons, Mustangs and Pacers.
The brothers have been hugely successful over more than 30 years and they're still racing today. And still winning.
About the only thing that's changed is that they're now providing others with the benefit of all they've learned over the journey, be it building cars or engines, or helping others to get the best out of their machines or themselves as drivers.
The Tilleys are a motorsport family, but they are also Chrysler people. Their love of Valiants stretches back a generation. Their father, John Tilley, is himself a Chrysler aficionado.
Back in the day, John Tilley raced a Holden 48-215 at Oran Park. But drag racing was more his thing.
"He was circuit racing Holdens and drag racing Valiants," Brad Tilley says.
Their mother, too, went drag racing, in an S Series Valiant. Mrs Tilley also drag raced the family Falcon, an XY GT-HO Phase III…
"I remember seeing photos with us kids at Castlereagh in prams while they're out racing!" Brad laughs. "So I think racing was always what we were going to do.
"Dad did rock excavation, but on the side he was a mechanic. He did a lot of work from home and helped out a lot of people. Then he got involved in a shop called Valspeed at Manly Vale."
Image: David Cook
This was the Valiant speed shop on Sydney's Northern Beaches run by Des Leonard. AMC readers may recall Leonard as one of the owners of the three Plymouth 'Ramchargers' (featured in AMC #47) that found their way downunder in the mid-1960s. John Tilley worked there when Leonard was racing the Ramcharger (inset right).
Valspeed, as the name suggests, was the place to go if you wanted to get a bit more out of your Valiant, as Brad Tilley explains:
"They'd get brand new slant-six S Series and AP5 Valiants in and they'd service them, and they'd fit their own intake manifolds with Carter twin carbies, a set of headers and a cam. That was the service they provided: you bring your Valiant in for the day and get it hotted up.
"Later, when Cameron and I were wrecking Valiants, sometimes we'd buy old cars and find the service record papers still in the glovebox, and some of them showed they had been serviced by Dad since they were brand new!"
By the time Brad Tilley was old enough, he was off to Castlereagh to try his luck in his own Valiant, an S Series auto with a welded-up diff and triple Weber carbies.
"We pulled the kickdown lever back on the gearbox and wired it back so it would shift harder," he says. "I was that nervous that I forgot to take the toolbox out of the boot!"
Amaroo Park 1985 Image: Ray Berghouse
The drags, however, weren't for Brad; he preferred circuit racing. Then in an exquisite coincidence of timing, just as he and Cameron were starting out in lap dashes in their Valiants, the new pre-1965 Appendix J historic touring car category, what soon became Group N, was born in the early 1980s.
"We saw the first few Appendix J races and I just could not wait until we could build a car and get out there with those guys and have a go! And it was only ever going to be a Valiant."
The push-button automatic S Series might seem like a slightly eccentric choice of Group N weapon, at least to non-Valiant enthusiasts. But the S Series measured up very well against its contemporaries. It had drum brakes all round, but so did the rival EH Holden. The Valiant was about 100kg heavier than the Holden, but the 225 cubic-inch (3.7-litre) slant-six was good for nearly 110kW – about 35kW more than the 179 (3.1-litre) Holden. And, surprising though it may seem, the S Series' 904 TorqueFlight push-button auto trans was ideally suited to racing.
Brad Tilley's white S Series wasn't even the first of the model to race in the new class. Experienced Sport Sedan driver Brian Potts saw the S Series' potential and was up and running very early on with his black machine, along with several others. Potts' efforts at least provided the inexperienced young Tilley brothers with a benchmark.
"Because we didn't have much money then," Cameron Tilley explains, "we had to do it all ourselves. You're up against guys like Bruce Stewart, Greg Toepfer and Brian Potts, guys that had been around a long time and knew what they were doing. There was some good competition, and we had no alternative other than to do it ourselves – Dad wasn't going to pay; he wanted us to learn how to do it.
"You'd have a failure; you had to come back home and work out how to fix that failure, and make it better."
Cameron came in about a year after Brad with his own S Series. For a while the third Tilley brother, Jason, ran a blue AP5 model.
In those early years, the Tilley brothers were learning about developing their cars for racing as much as the actual craft of racing itself. It is something that has held them in good stead over the years.
"We just started off with the standard parts and thought, 'how can we make that better, what do we need to do?'" Brad explains.
They would think of every last little thing that might make a bit more power, and try it.
"Some weekends," Brad says, "we'd be here Friday nights till midnight on the dyno, then back 7am for another full day on the dyno, Saturday night, then back again on Sunday, throwing camshafts at it all weekend. We're lucky enough to have the gear to be able to do it, but it can really drag you down to go through all that, and then maybe end up with the first cam you tried!"
"You could spend a full week making a set of exhaust pipes," Cameron says, "to what you think might give more power or torque, and run them for half an hour on the dyno only to find they don't deliver what you'd hoped. So then they're throwaways…
"I would have half-a-dozen slant-six exhaust systems here and I reckon about 20 camshafts, and lots of other parts that we've thrown at engines on the dyno over the years. It just went on and on to get where we are at."
Where they got to, as far as the old slant-six engine was concerned, was further down the horsepower highway than perhaps anyone else in the world had ever ventured. Indeed, some visiting American Chrysler buffs were astonished to hear that the Australians were getting as much as 280kW from their slant-sixes. According to the Americans, the Tilleys had the most powerful naturally-aspirated slant-six engines in the world.
To be pushing such bold performance frontiers with engines as old as these was surely tempting fate. But while there has been the odd dyno disaster, for the most part the engines have been very dependable.
"You'd go through parts but you'd just get into the routine of servicing and checking things like crankshaft fatigue," Cameron explains. "You just had a maintenance programme that hopefully would take care of anything before it exploded. We had a few blow-ups, but we just learned what life span we could expect from different parts, and ran them accordingly.
"It's probably what taught us the whole game of engine building, and car building too," Brad reckons.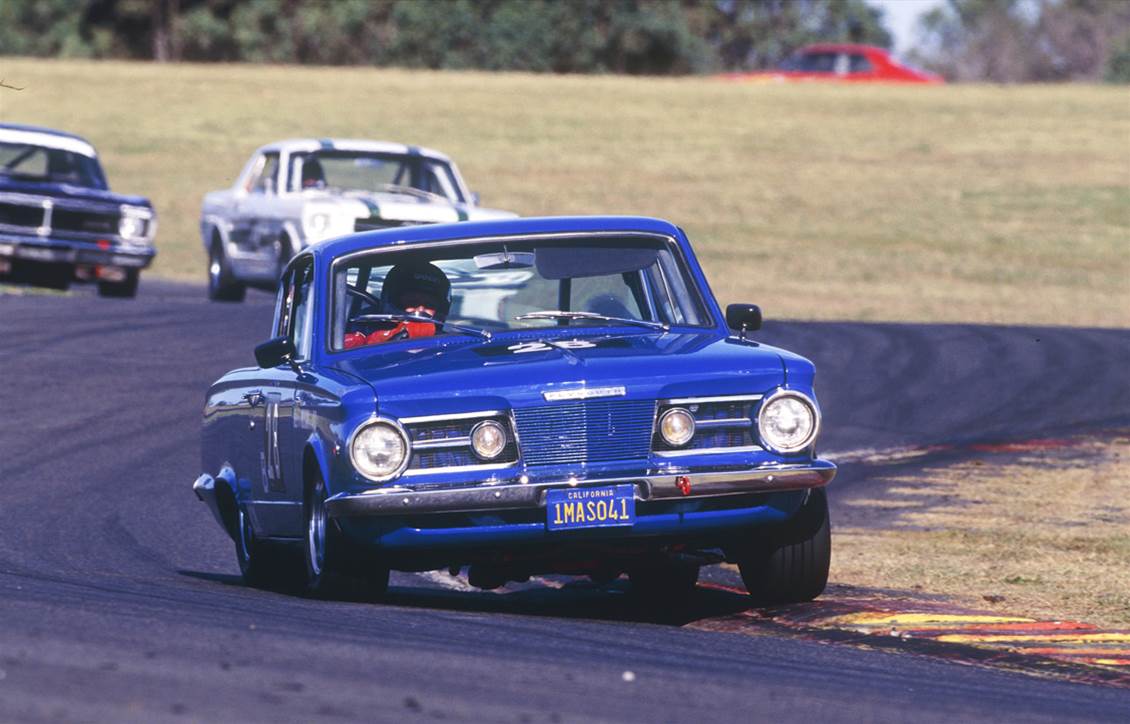 For something completely different, the Tilleys swapped their S Series Valiants for a Plymouth Barracuda. With its 4.5-litre V8, the Barra wasn't slow, but Brad and Cam were a little gunshy when it came to risking the car's stylish and rare sheetmetal.
NSW racegoers may remember the distinctive early 1960s Plymouth Barracuda the Tilleys ran for a while.
"We built that from a car dad bought from California," Brad says. "It was still a road registered car, rust free, only done about 40,000 miles. The owner was a doctor, and dad had someone over there go and look at the car. But when he said we were interested in taking it to Australia and turning it into a race car, the owner said 'no way, you're not taking it; I don't want it raced!' So we changed the story around so we could get the car…
"It wasn't as successful as probably it should have been. We just wanted something different, there wasn't one out there and it had the Valiant connection, with the 273 V8. It did go, but the biggest problem in the end were the rear guards and the track – you couldn't get enough track on the rear, so you always had to over-spring the car to stop it falling over. And also, there was the thing that you felt you had to give in to someone in a corner, because the panels were so hard to get."
They still own the Barracuda. It's road-registered now, with Historic plates.
These days Brad Tilley mostly runs Fords.
There have been a lot of different cars over the years and by no means have they been exclusively Chrysler products.
"After a while it was getting pretty hard for the Valiants as there were more Mustangs coming along, and then Laurie Donaher came along with that Iso Rivolta. A few Chev Novas… it was getting hard. So we ended up running two Vals and a Mustang at the one event – and that's when it got expensive!"
In recent years Brad has run a '66 model Mustang in Group N and in the TCM the familiar green XY Falcon GT-HO, a car that appeared on the cover of AMC #6. Sometimes Brad runs the Group N Mustang in TCM as an invited entry (with modifications to suit the TCM regs).
Cameron Tilley's VG Pacer TCM machine – 500 horsepower from a naturally aspirated Hemi 265.
Cameron remains a Mopar faithful with his VF Valiant Pacer in TCM.
In 2005 Cameron updated to a Group Nc Valiant Pacer he bought from the estate of Bob Asher. Cameron raced the orange ex-Asher Pacer until his blue VG TCM car was ready to go.
"The orange car is a genuine Pacer," he says, "The bodywork is in good shape, so I used to get a bit nervous about racing it."
The Nc Pacer's Hemi 245 engine pumped out an impressive 310kW. But the TCM car's 265 Hemi delivers 370kW – that's 500 horsepower – at a maximum of 8000rpm.
Those are impressive numbers when compared against what originally rolled out of the Tonsley Park Chrysler works in the early '70s – a genuine E49 had about 220kW and maxxed out at 5800rpm. To achieve that amount of power and engine rev increase using a standard 40-plus years-old engine block, without forced induction or fancy electronics, is quite something.
While Cameron's not above racing non-Valiants – he also ran a Falcon XY Group N car, and says that putting the big Ford on pole with seconds to spare at Albert Park is one of the highlights of his career – he is first and foremost a Chrysler man.
"People bag Valiants out like you wouldn't believe, and for me it's good to be able to prove them wrong; to prove how competitive those cars can be without a huge amount of expense, really," he says proudly.
The blue Pacer is arguably the cult hero of the TCM field for its giant killing performance and the big hits it has bounced back from – after bouncing off the Surfers Paradise street circuit's unforgiving walls a couple of years back.
But it's no longer just about the Tilley brothers and their rides themselves; there are their customers to consider. The Tilleys are responsible for the preparation of a range of customer racing machines, including Terry Lawlors' ex-Dick Johnson Group A Greens-Tuf Mustang as well as Terry's Group S Shelby Mustang. Lawlor took a Tilley-prepared Mustang to the States a couple of years ago and shocked the Americans with its pace. The Tilleys altered the car to suit the American historic rules, and the Australian Mustang proceeded to beat all the local Mustangs at the big annual Laguna Seca historic meeting.
"At some meetings we'll have seven cars we're looking after," Brad says. "So we've got to look after those all weekend, and try to do our own programme as well. It can be a busy weekend for us!"
"We can do pretty much everything here; we can pretty much build up a complete car," Cameron says. "About the only thing we can't do here is seat upholstery. You can bring a car in here, we can acid-dip the shell, seam-weld it, do the rollcage, paint it, build the engine, gearbox, diff, suspension and brakes, tow it to the track and drive it, and prove to the customer that it works. And we can offer driving tuition.
"We've learned a lot over the years, and to be able to offer this kind of service is what we've always worked towards."
Racing the push-button auto
Racing a sedan with a three-speed auto transmission is a bit novel in itself. But when the shift mechanism is neither a steering column-mounted lever nor floor change, but rather is a series of dashboard mounted pushbuttons, then it's a whole new experience all of its own. And yet as odd as it sounds, the Valiant's 'space-age' push button system proved very adaptable to competition.
"You had to drive it like a manual, pushing buttons," Cameron says. "It was a bit of a headache early on when Brad first started. We had to do a lot of work with the torque converter to get them to leave the line properly, but you had to be careful how far you went with that because you would lose engine braking at the same time."
"Because we had it manualised," Brad says, "and by that I mean we just drove it off the buttons, we were able to flat-change.
You'd drive the car with two feet, like a go-kart – left foot on the brakes – because as you braked and went down to second, you'd have to synchronise the throttle so it wouldn't lock up all the time.
"You had to be careful not to push the wrong button," he tells us, "because it would instantly go into whatever gear you selected. Obviously you don't want to go back to first in the middle of the straight!
"Off the line, we'd pull up to the grid, then get the back wheels spinning as much as we could to cook the rear tyres, and then let it go back to idle, then bring the revs up and load the engine up with the left foot on the brake. As soon as the flag dropped, you'd release the brake and then you'd have to pull out straight away so you didn't run into the bloke in front! It would just take off – you could be on the fifth row and end up first into the first corner! It would accelerate that hard in first gear.
"And then, with the EHs with their three-speed column shifts, and the Mustangs with their Top Loaders, they'd be looking for the next gear – while we're hitting 6000rpm and then pushing the buttons – bang! – straight into the next gear."
"We always tried to keep them to 6000-6200rpm," says Cameron. "With 380 horsepower, that Appendix J S Series was a 13-second [quarter mile] car. That's fast! You try to get a three-speed column-shift EH to do that.
"In the end, when we were on our game, you'd make a mess of them in a straight line. It was hard even for the Mustangs to pass us. They'd just get us at the end of the straight at Oran Park, but then we'd pass them around the back, because it handled so well.
"When Amaroo shut, the S Series was the car to beat around there. Even when Nc came out, I could beat Mustangs, Falcon Sprints, the whole field outright, in a six-cylinder push-button auto, drum-braked S Series Valiant."
The S Series was king at Amaroo - even the later Group Nc Mustangs were stretched trying to match the old push-button auto Slant-Six Valiant.
Black Beauty
One of several Valiants Cameron Tilley owns is a neatly presented VC sedan.
"It's black, with five-spoke mags; it just looks like a beautiful immaculate old Valiant," Cameron says of the VC.
It also happens to be turbocharged. Cameron had wanted to find out how much power could be extracted from a slant-six turbo. Quite a lot, as it turns out.
The old black Val made quite an impression when Cameron took it along to one of Sydney Dragway's Wednesday night street meets.
"The problem is that it's too fast for the rules," he says. "It's run a 10.6 (quarter mile pass), and going that fast you're supposed to have roll-cages, race seat, harness, scatter shield and, because it's got drum brakes, a parachute. It's just a road car – a full trim VC Valiant.
"People look at it, and say 'does this all work?' and I take it for a run just to show them that it's not just all shiny. Last time I ran it at one of the Wednesday night street meetings, after I finished the run there was a guy waiting for me. I'd just done an 11.2, and that was apparently faster than the threshold. Faster than that and you had to have a drag racing licence. So he wants me to pay for a drag racing licence. I refused to pay the money – how does handing over $90 turn me into a professional drag racer? He let me off, and said, 'well, just take it easy!'
"Then I did the 10.6 on the next run, and he said to me, 'That's it, you're finished!' He started to get stroppy, and I said, 'Mate, I'm happy to go home. I've done what I wanted to achieve, I'm out of here!'
"When we put it on the engine dyno to run it in," Brad Tilley explains, "I had it on a mild tune – it's got Autronic injection – and I was gently loading it up and down, and I'm looking at the numbers and it's showing 500ft/lb torque, and I'm thinking, 'there's something wrong, a dyno load cell must have gone or something'. But then when we started doing horsepower, I looked at the numbers, and I'm thinking, 'geez, where's this thing going to go?'"
It went to 630 horsepower, with a staggering 730ft/lb torque at just 2800rpm…
"That engine," Cameron points out, "is actually still very basic: standard crank, rods, pushrods, rocker gear. The only aftermarket parts are the conrod bolts, valves and pistons. It just shows how tough the factory components are. Not just engine but also the driveline – to pump that sort of torque through a standard tailshaft, standard unis and standard axles... And the pushbutton auto, that came out in 1961.
"It's doing 160km/h at the 200-metre mark. When you're in it, it feels like it's trying to twist itself!"
Mentored by a bloke named Norm
Ask Brad Tilley to name the highlight of his career and the day he beat John Bowe in a TCM race at Bathurst in 2012 (after an epic struggle) is right up there. This was during a rare period in which Brad was driving for someone else rather than his own car. For three years he raced in the Biante Historic Touring Car Series in a Jim Morton-owned Mustang. Brad offers some interesting reflections on the late Jim Morton, the businessman/racer who did much to foster the careers of so many of our current Supercar stars.
"He wanted it done right, and he had the money to do it. I had to build the car and look after it. When you got to the track, you were expected to win. I used to get so far in front, that I'd back off. He knew that, and when I'd come in he would sit me down and say, 'don't back off. When you win, I want you to win by as far as you can, and every lap you do in that car, I want you to focus on going as fast as you can go.'
"So it was a good time, and it taught me a lot. It taught me a lot as a person, driving for someone like Jim. He was a really hard person at the track, but away from it we were like old mates; we went fishing with him at Pittwater every second Friday night, sitting out there all night in the boat. So he was two different people to me, but gee, he taught me a lot about racing.
"I think it was all that go-kart experience and teaching young guys like Jason Bright and heaps of others – I think I benefitted from that. It made me a much better driver. I would get out in front, and I was bulletproof. I had Cameron chasing me in the Falcon, Paul Stubber, Chris Stillwell, John Mann, all these guys who really knew their stuff, and we came along with this car and blitzed them.
Norm Beechey
"For the last year I drove for Jim, he used to get Norm Beechey to come along and mentor me. Not a lot of people have had that opportunity!
"What happened was that Jim got really involved in the Appendix J club, but he found the meetings were boring; everyone would just sit there all night and talk about the minutes from the last meeting, etc. So Jim tried to get guests to come along. He ended up flying Norm Beechey up for the meeting; they put on videos and he gave a talk, and from there he just got involved.
"So then when we'd be racing at Sandown, and Norm Beechey is turning up, talking to me about how I went in that race, and how to approach the next race, helping us with the car. That was really good!" he recalls.
"The day when he turned up at Sandown, I just thought 'this is unbelievable!' Here we are sitting in the tent, and I'm thinking how Jim has been there and done it with so many good drivers, and we've got Norm Beechey here as well in the tent, I've got whatever I want for the car, they will buy it for me, and then it's just up to me to not be an idiot and blow it. It was a good time!"
Brad Tilley also did a season in V8 Supercar's development series in Falcon for Morton's Decinabacked squad (above).
This article appeared in
Australia MUSCLE CAR
Magazine
Issue 93