As any art collector will tell you, when an artist passes away their work immediately becomes more valuable because no more can be produced. The same, it seems, is true of cars with at least six Australian-made muscle cars selling for at least $1 million in 2021, as collectors scrambled to secure a piece of history.
Obviously all of these models were already out of production before the start of this year - some for 40 years - but the demise of Holden at the start of 2020 and the travel restrictions caused by the global pandemic appear to have combined to drive car collectors into the next level of value and desirability.
Here then are the most expensive publicly sold Australian muscle cars for the year.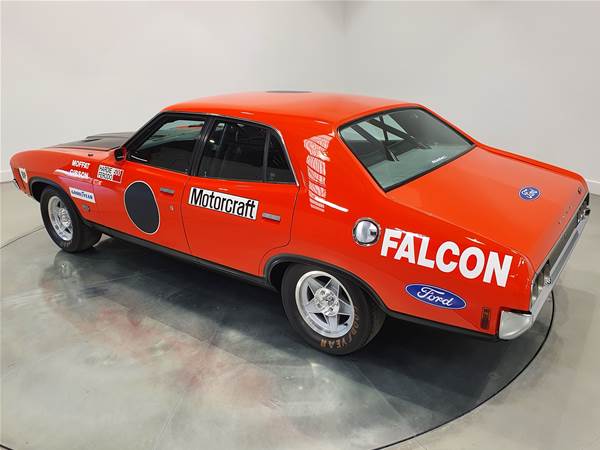 The Ford Falcon GT-HO Phase IV that sold for almost $2m.
1972 Ford Falcon GT-HO Phase IV - $1,750,000
Australian Muscle Car Sales can claim the current honour of selling the most expensive locally-made car. Unsurprisingly it's a pristine example of the XA Falcon GTHO Phase IV, one of only four built by the blue oval before the 'Supercar scare' saw the project axed.
This particular example reportedly changed hands for $1.75m in August, with the car now part of the collection of an avid private muscle car collector.
1971 Ford Falcon GT-HO Phase III - $1,300,000
The sale of the Phase IV reset the bar, which for the longest time had been established by its predecessor, the GT-HO Phase III. But these XY Falcons are still highly sought after, as demonstrated by the sale of this 'Yellow Glo' example.
One of only 12 in this colour with a beige vinyl roof, and in immaculate condition with trophies from a variety of car shows to prove it, this '71 model sold for $1.3m at a Lloyds Auction in September.
This Ford Falcon GT-HO Phase III sold for $1.3m.
1971 Ford Falcon GT-HO Phase III - $1,150,000 
That September sale beat the record for the most expensive Phase III sold, which had only stood since February this year. That's when Judith Neilson, a billionaire philanthropist and art gallery owner, bought this Electric Blue version for $1.15m.
While this beautiful blue Falcon is one of only seven in this particular hue with black trim, Neilson didn't buy it because of its rarity or its 300hp 5.8-litre V8. Instead she purchased the car to display in one of her Sydney galleries, because she believes it's a work of art as much as a piece of engineering.
HSV GTSR W1 Maloo - $1,150,000 
Rarity is the key value and HSV obviously knew that when it built just four examples of this LS9-powered ute for some of its most loyal customers. And those customers knew the value of what they had and capitalised on the demand this year.
Each of the four W1 Maloos was painted in a unique colour and this 'Yellah' example was designed to call back to the original GTSR from 1996. The combination of modern rarity and nostalgic colour saw this particular example sell for $1.15m at auction in September.
Two of the four HSV GTSR W1 Maloos sold in 2021.
HSV GTSR W1 Maloo - $1,050,000
The September sale of the Yellah example was less-surprising than the January sale of this 'Light My Fire' W1 Maloo in January. At the time it was unclear just how much people would be willing to pay for these final HSV models, but the $1.05m sale price made it clear these later muscle cars are in hot demand.
These W1 Maloos were fitted with the 474kW/815Nm LS9 supercharged 6.2-litre V8 from Chevrolet and featured V8 Supercar-style shock absorbers to ensure its handling was beyond anything the company had ever made.
1996 HSV GTSR - $1,000,000
Sold alongside the Yellah W1 Maloo, this original GTSR based on the '96 VS Commodore also found a buyer willing to pay seven-figures for it. The $1m sale is understandable when you realise this is build #001, it has only 86km on the clock and HSV only built 85 examples of his racing-inspired road car (10 of which went to New Zealand).
The GTSR caused a stir when it arrived, as each was painted in the unique yellow colour scheme, was powered by a 5.7-litre V8 and it featured a huge, racing-style rear wing that was unlike anything seen locally since the GT-HO Phase III.
This limited-edition HSV GTSR fetched $1m.
2017 Holden Commodore SS-V Redline - $750,00
While the rest of this list is filled with special creations from Ford's Special Vehicle Operations and Holden Special Vehicles, this final entry was a standard issue Holden model without. However, it was the very last Holden model built in Australia, reportedly running down the production line in October 2017.
Because of its special place in history one Holden lover was willing to pay well above its original $56,690 asking price, handing over $750,000. The original owner was obviously aware of what he was buying at the time, so the car sold came complete with its plastic seat covers, steering wheel protector and original factory stickers.