The Chevrolet Corvette C8 was an immediate sell-out when it became available for Australian customers in 2021 - literally. Even before a single model was in Australia, or even built for this country, Australians had snapped up every one of the approximate 200 examples that arrived in 2022.
The combination of the introduction of right-hand drive at the Bowling Green, Kentucky plant, coupled with the on-going global supply chain crisis meant this first shipment of 'Vettes was a case of General Motors Specialty Vehicles (GMSV) just getting what it could.
Click here to read our 2022 Chevrolet Corvette C8 review
Now for the 2023 model year GMSV has been able to secure more choice for Australian buyers, introducing a range of new options, including new alloy wheels and interior trim options.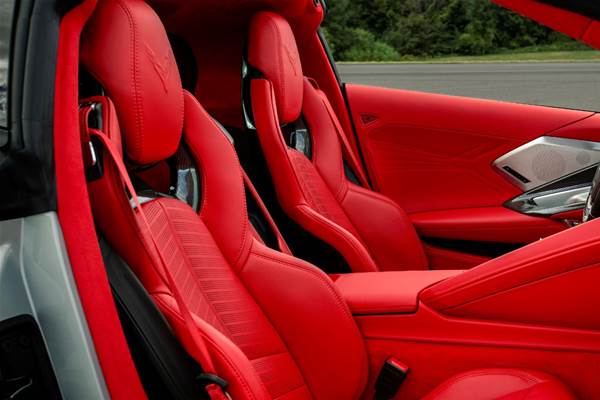 The MY23 Corvette will be available with an optional red leather interior.
The most noticeable is what GMSV calls the 'Adrenaline Red' interior package, which adds bright red leather throughout the interior to create a very distinctive look.
Director of GMSV, Joanne Stogiannis, explained that these changes, which include more understanding of production line capabilities, means future owners can make their Corvette more personal.
"The response to the C8 Corvette has been unheralded, not just in Australia and New Zealand, but right around the world," Stogiannis said.
"This overwhelming international demand for the C8, along with added complexity of being the first-ever factory-manufactured right-hand-drive model, meant we needed to pre-set our launch allocation of customer vehicles.
"However, with our latest MY23 allocation, we are able to offer customers the ability to personalise their orders further, resulting in a more bespoke ordering process.
New alloy wheel options are also available to help buyers personalise their 'Vette.
"Providing customers an improved level of personalisation was a key focus for us with this allocation as well as news that we are providing smaller, more frequent, Dealer allocations at this time.
"This will mean there is greater visibility on production timing along with the opportunity for customers to personalise elements of their vehicle."
It's unclear exactly how many examples of the C8 will be available for GMSV, with demand still high for the model in the US and Australia. Deliveries of the new MY23 model are due to begin before the end of the year.