Mr and Mrs van Kesteren were horrified the day their 19-year-old son pulled up in the driveway in his new car, a second-hand hot Holden for which the teenager had paid a small fortune.
The van Kesterens neither understood nor cared that young Chris was in fact now the proud owner of a very rare machine, a genuine Torana A9X. All they could see was that their son had made a childish impulse purchase, in an act of sheer financial foolishness.
Certainly Chris van Kesteren was thinking with his heart rather than his head when he handed over $19,990, the asking price for the A9X on display in the front of an Adelaide car yard in April, 1991.
"As a kid I had always wanted a muscle car," Chris says. "My parents had nine Volvos through my childhood years, but I wasn't really into those kinds of cars.
"A9Xs were that rare that I never thought I'd ever even see one, let alone come across one for sale.
"So I started looking at other cars. I think I looked at about 15 SL/R 5000s and 10 GT Falcons – and couldn't find a good one amongst them."
Disillusioned, Chris had all but given up on the dream of owning a muscle car – of any description. Then one day when he went ten-pin bowling with his sister and brother-in-law, they spotted what appeared to be an SS Torana Hatchback up on stands out the front of the used car section at United Motors.
It was pouring with rain but they stopped and got out to take a look anyway. Chris had assumed it was an LX SS Hatchback, but then he noticed the disc-brake rear end. The closer they looked, the more it became clear that this wasn't a garden-variety SS Hatch at all.
"We got drenched looking at it," Chris says. "Then my brother-in-law said, 'what are you doing?' and I said, 'I'm going to put a deposit on this!'.
"I went straight into the office and put the deposit on it – and then went home to go into bat with my parents, because I was still living at home at the time."
'He's going to kill you', was Chris' brother-in-law's prediction of how van Kesteren Snr would take the news. Sure enough, Chris' parents were somewhat disappointed in their son…
Twenty-grand for an A9X even 27 years ago seems like quite the bargain, but this of course was some years before the muscle car boom really hit. Older Australian muscle cars and homologation race specials such as the A9X were beginning to appreciate by the early 1990s – although no one then could have predicted the stratospheric numbers these cars can attract today.
"It wasn't that cheap, even back then," Chris says. "They were starting to get up there in price. I suppose it would be a bit like a young lad buying a HSV in today's money."
It was all Chris' money, too. A self-described workaholic, he had saved up the cash simply by working hard.
"When I first got out of school I had four part-time jobs strung together. I was working 12-14 hours a day, six days a week. But I was still living with my parents, so the car was under their roof and under their rules."
Chris says he got 'a lot of grief' from his parents – for a lot of years. Early on during Chris' ownership, it broke the rings in number two cylinder. As a consequence the A9X sat in a shed at home for the next six years.
"At the time my parents had a plant nursery, and my father threatened to fill it full of potting soil and put plants in it! I copped heaps of curry from my mates, too, because the car was sitting in the shed doing nothing, but I wasn't going to throw it together rough as guts. For me, it was going to be a no-expense-spared thing. It took six years before I could do that, and I got it done just before my wedding. And we got married in it. It was the wedding car – and it survived the divorce nine years later!"
Over the journey Chris made some modifications but was mindful not to take things too far.
"I must have had some kind of foresight to know that not many people would have a standard A9X. Anything that came off the car was kept, so that it could later be returned to standard specification.
"It's had a series of birthdays over the years but never a full rebuild. When things have started to look a bit daggy around the edges it gets a bit of a tidy up."
The car retains all the original running gear: engine, gearbox, diff. The engine was rebuilt in 1998; the gearbox was overhauled only last year. All the glass is original; the front spoiler is still original factory plastic, whereas so many others have been replaced by fibreglass ones.
"It's in better condition now than when I bought it. Both sides of the car, engine bay and bonnet were repainted in 2004; the rook and hatch are original paint. The interior is original and has never been out of the car – although the back seats have, so we could remove the flares in order to repaint the sides."
Chris retains all the original manufacturer documentation, including a defect notice for a faulty blinker which he found screwed up under the back seat.
When they were doing that, Chris found a screwed up piece of paper under the seat. It was a GM factory defect notice saying the car had been defected at the factory for a left-hand indicator that wasn't self-cancelling.
Chris has kept that defect notice. He also has all the manufacturer documentation that came with the car when it first left the dealer showroom: log books, vehicle ID certificate, the Endrust certificate, along with the matching production broadcast sheet from the factory for this car.
From this information Chris discovered that it was the 26th A9X Hatchback made and it was built on September 9, 1977 – which happens to be his birthday!
"I found this out six years after I'd bought it – I think it was just meant to be!" he grins.
It also happens to be the only A9X Hatchback United Motors ever sold. United actually sold the car twice – as a used car in 1991 and straight off the new car showroom floor in 1977. In the early '90s, the original purchaser brought the A9X back to United Motors to trade it in on a new VN Commodore. Unless the VN in question was a new Group A SS, the A9X's original owner may well be kicking himself today…
United Motors boss Vin Kean (highlighted) was the driving force behind the establishment of HDT Special Vehicles
The fact that it is the only A9X Hatch the dealership sold meant this was a machine of some significance to United Motors boss, the late Vin Kean – the Holden dealer who was the driving force behind the establishment of HDT Special Vehicles in 1980 and the Peter Brock-enhanced Commodores which followed.
According to van Kesteren, before Vin Kean died he offered Chris what amounted to a blank cheque to buy the car back.
"The Keans gave me a new United Motors sticker for the back window. You can't buy them – they had three or four remade at one stage for their own cars."
While there are no missing gaps in the history of this two-owner A9X that's never been raced, the car does hide a few secrets.
"Most A9Xs have the coding 'SJ' on the rocker cover," Chris says. "But this one had the coding 'GM'. I know this from the matching production broadcast sheet."
Exactly what the coding means is a mystery on which neither former GM-Holden production control supervisor Mike Prowse nor Holden's competition chief at the time of the A9X, Joe Felice, were able shed any light.
"When I told Mick McCardle from Torana Restoration Parts Australia about the GM coding, he nearly fell off his chair! He told me that he only knew of one car that had that code, and it was an ex-Group C racecar. He said the 'GM' coding is supposed to signify a development engine."
At the recent Phillip Island Classic Historic meeting, Chris spoke to Neill Burns (former engine man for HDT and Perkins) and Holden engineer Peter Byrne about the coding. They both agree with McCardle, Burn suggesting it might be a slight camshaft change or minor head mod that was made while setting up for production of the 5.0-litre V8 engines for the Commodore VB.
"The thing is: the camshaft failed at 5,000km, and the one-tonne clutch failed at 10,000km. The cam was replaced with a Crane econocam, a very mild cam, Holden did a warranty claim on the clutch and they put a Chev 10.5-inch clutch in it. All that was before I bought it."
The engine is now fitted with a Speedpro cam with anti pump up lifters, and an ACL race series kit in the bottom end, as part of the 1998 rebuild.
"Everything's been balanced and blueprinted. Otherwise it's not a wild motor."
But there is another unexplained mystery to this car prior to Chris's ownership.
"The service book shows that at one stage early on its life it was serviced at Warren Cullen Racing. But Warren Cullen is in Melbourne and this is an Adelaide car."
These days it is a 'Melbourne car', with Chris having relocated to Victoria some years ago. Since moving to Melbourne, he's become involved with the Victorian Historic Racing Register.
"At meetings like the Phillip Island Historics, I get to take it out on the track and throw it around a bit; and then I get to hang out with the rock stars, the drivers who raced these cars – it's too good to be true as far as I'm concerned!"
Chris also had the opportunity to drive it around Mount Panorama, in the historic parade laps at the Bathurst 1000 in 2004.
"There were three of us with road cars, and we got let out by mistake with the ex-race cars! We had a ball. Down the first hump over Conrod I was doing about 210, and I looked across and there were two stern faced officials looking at me!"
At the Sandown Historic meeting at the end of 2018, Chris got to enjoy the experience of being driven around the circuit in his car by Alfredo Costanzo.
This was meant to have been the last race for the former openwheeler star (who was fourth at Bathurst in 1979 with Allan Grice) but his McLaren Formula 5000 was unfortunately a non-starter that weekend.
For Chris, the A9X has always been a 'weekend car', and never a daily driver. In the 27 years he's owned it, it's only covered 19,000km. It is, he says, not exactly what you'd call practical motoring.
"It's much better on the track than on the road. With the diff ratio it's got, it can do 120km/h in first gear, so it's not really the type of car you'd go running down the shops in. I've also got widened GTS rims on it with 245/50/14s on the front, and with no power steering it's heavier than my truck to steer! The clutch is basically an in or out clutch; it's not the type of clutch you can hang on to for a period of time. From zero to 40km/h it's a pig of a thing to drive.
"But it's got legs for miles – it'll do 160km/h in second gear. It's a recipe for losing your licence.
"The best way to describe it is like this: you jump in it, the mullet grows back and you're 19 again! I love the thing."
Over time his parents have grown to like, if not love, the A9X. As the value of these cars has steadily risen, so too the attitude of his parents has softened.
"Now they think buying the car is the best thing I ever did! They've even got a photo of it in the lounge room…
"I just always loved it for what it is. I thought maybe one day it might make 50 grand, but it was never about the money anyway.
"I'm not planning on ever selling it. I plan to die with it."
As Chris and his current partner have no offspring, he jokes that there might be a very lucky nephew or niece that inherits it at some point in the future.
"But if they harm it, I'll haunt them!"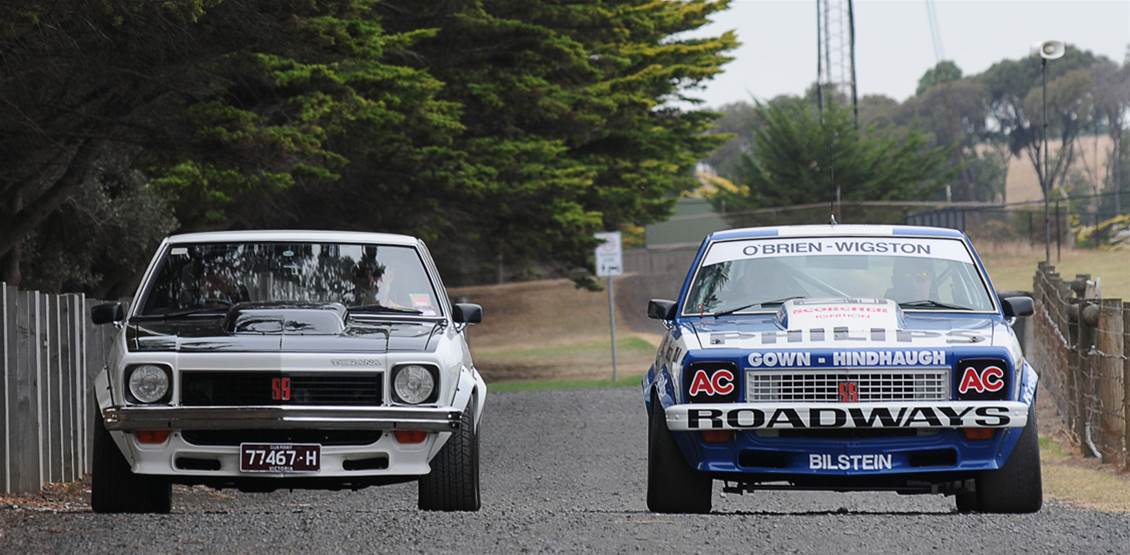 Road and track... Chris van Kesteren's road-going A9X pases with the Roadways race version.
This article appeared in
Australia MUSCLE CAR
Magazine
Issue 112